$85 shipped OBO or trade for 4/5 channel amp.
RSX6.9 6x9 Inch Coaxial Speakers - These came out of my Jeep Grand Cherokee and are in great condition. They are a few years old, but you'd never be able to tell by looking. I replaced them with Infinity 6x9's so the front doors would match the rest of the system.
http://www.treoonline.com/rsx_coax.html
One speaker has a small nick in the surround: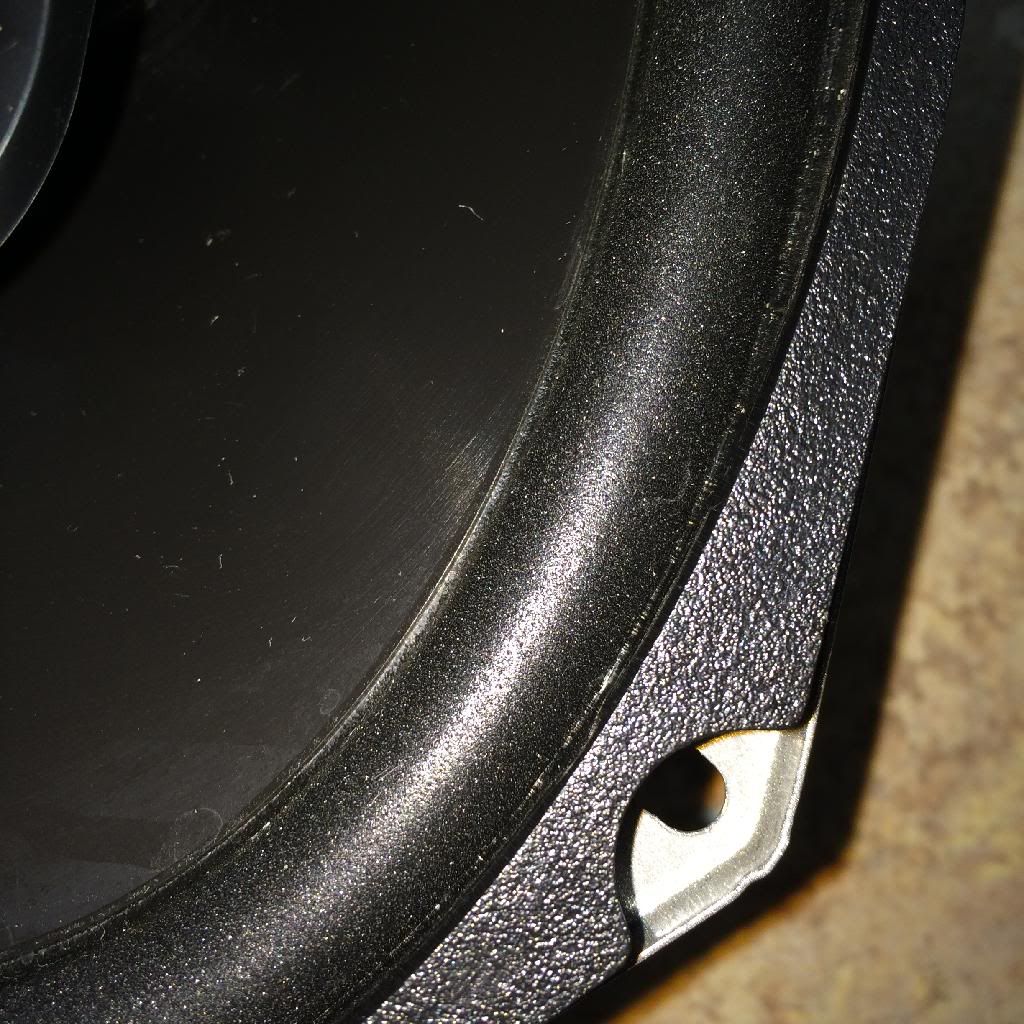 The all-new TREO ENGINEERING RSX Integrated speakers are designed to deliver superior sound quality and terrific installation flexibility to the budget-minded audiophile. TREO RSX Integrated speakers were painstakingly designed and rigorously tested in our labs in the United States to deliver uncompromising audio fidelity in sizes to offer OEM fit in just about any vehicle on the streets of the twenty-first century. The efficient design of the TREO RSX Integrated speakers means they run well when powered by a high power head unit or a power amplifier.
TREO RSX Integrated speakers feature lightweight and durable injection-molded polypropylene cones laser-etched with the TREO ENGINEERING logo. These poly cones deliver smooth midbass response while the 20mm polyetherimide (PEI) tweeters provide crisp high notes and frequency response up to a stratospheric 22 KHz. The tweeters are protected by a custom-molded tweeter grill embossed with the TREO ENGINEERING triangle logo. TREO RSX Integrated speakers also feature an integrated 12 dB/octave passive crossover network for improved sound quality. Perimeter voice coil venting integrated into the speaker frames mean these speakers are perfect for extended high volume enjoyment during those long drives when the music is your only company.
The proprietary TREO frames and depth-minimizing motor structures of the TREO RSX Integrated speakers were custom designed to fit into the unforgiving tolerances of the door panels of today's vehicles. TREO RSX Integrated speakers are available in 3½", 4", 4x6, 5¼", 5x7, 6½", and 6x9 sizes to fit the factory speaker openings in almost any vehicle whether it is a brand-new import or a domestic classic. TREO RSX Integrated speakers also feature low-profile multi-angle spade terminals for maximum installation flexibility.
Features:
20mm polyetherimide (PEI) dome tweeter with Neodymium magnet 8 times stronger than conventional magnets
Injection-molded polypropylene cone mid-bass drivers
Resin-impregnated poly-cotton damper for great cone control
4 ohm system impedance with high efficiency for use with high-power head units and amplifiers
Onboard 6 dB/octave crossover with solid state tweeter protection
Long copper wound voice coil for distortion free listening
Powerful and durable low-profile strontium ferrite woofer magnet
Multi-layer UV-treated foam surrounds for superior dampening
Optimized to perform off-axis response in factory locations
Custom-molded integrated tweeter grills for style and protection
Proprietary low-profile frames with perimeter voice coil venting and integrated TREO triangle logo
Multi-angle spade terminals increase installation flexibility
Mounting screws and speaker wire included
Available in 3½", 4", 4x6, 5¼", 5x7, 6½", and 6x9 sizes for OEM fit in almost any vehicle