I got the Famoso dragstrip this fall so we can have another private track day just like we had before. So yes people WE WILL be having a Famoso track day this year!!!
heres the flyer for:
SLUG DAY!!!!
October 29th 2011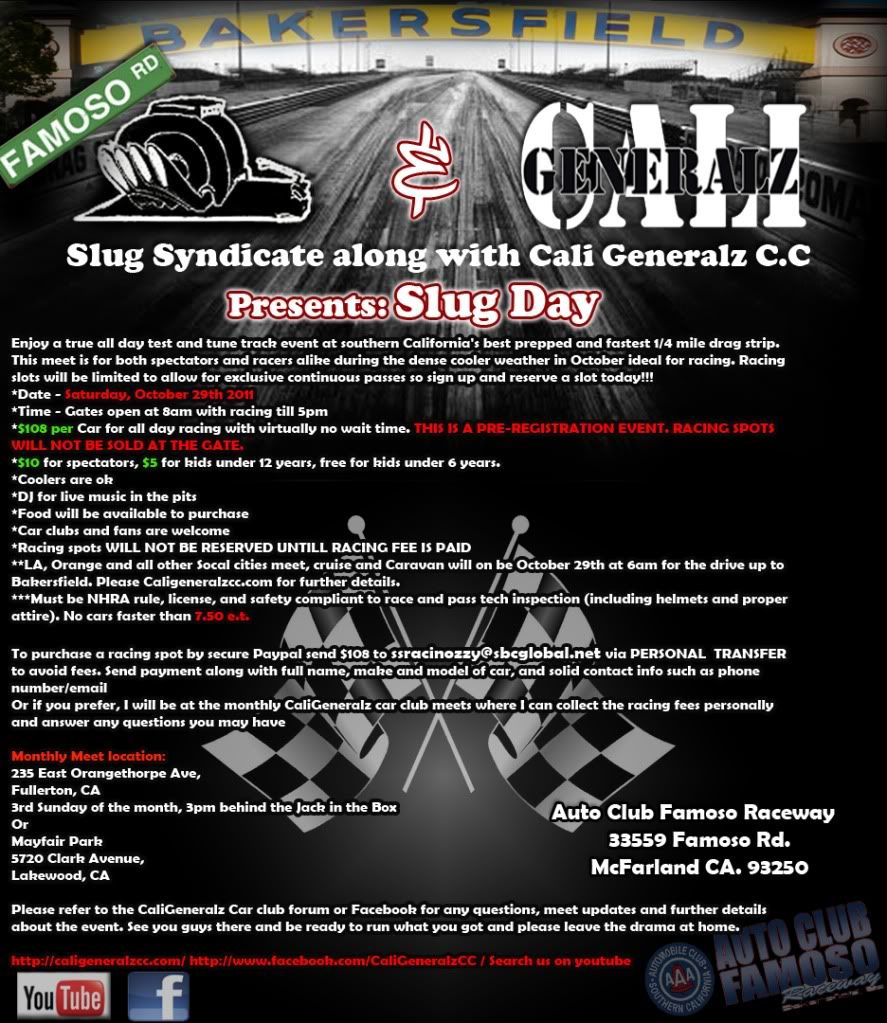 Saturday October 29th 2011
from 8am-5pm
$108 to race all day and I truly mean all day.
$10 for Spectators
DJ in the pits
BBQ
Alcohol (for non-drivers)
Racing spots WILL NOT be reserved until fee is paid.
Refer to the flyer for more info.
I will be accepting Race fees either through Paypal or if you wish, in person at the CaliGeneralz monthly meet.
send fees along with full name, make and model of vehicle and solid contact information like phone number and/or email address.
Paypal ID is
[email protected]
MAKE SURE fee is sent via PERSONAL TRANSFER to avoid additional fees
I will be updating this thread as other details arise. Sponsors and Shops feel free to PM for sponsorship details for raffle.
feel free to post up or PM me any questions you have regarding this event.
Spots will be limited so reserve your spot now!!!
UPDATE
u can also ask any questions on the SLUG DAY main event page on the CaliGeneralz forum
http://http://caligeneralzcc.com/forum/showthread.php?p=19712#post19712
I have also attached the 2011 NHRA rule book for all your safety and requirement questions. Everyone must obey these rules to be able to run. No refunds will be given for failure to abide by these rules. So read up guys!!!
http://www.bremertonraceway.com/2011 NHRA Rulebook.pdf
*All paid racing participants will be automatically enrolled in the raffle!!!!
Update 9/6

Pro-Street Terrorist added as a sponsor for the raffle!!!!


Update 9/7

Jim at CalSpeed & Performance will donate a full chassis dyno tune for LS based vehicles (non transferable)


Greg at R.E.T. will now donate a tune for both GM and Ford platforms


Edelbrock has become a sponsor for the event and raffle
UPDATE 10/1

***CUTOFF DATE TO BE ANNOUNCED, SIGN UP ASAP!!!!!***
Guys theres still time so hurry up and sign up before im told to set the cutoff date!!!
http://famosoraceway.com/
- Ozzy