Discussion Starter
·
#1
·
I read the long thread on brake noise in this section and thought i would take a stab at it. I am not a mechanic, but with enough crown royal in my system can be whatever i want to be
Kidding aside, i went to a local Partsource and picked up a bottle of blue Brake Quiet Paste and a bottle of Silicone Brake Lubricant (high temp)...and a few bottles of brake clean.
1. Loosening the lug nuts on the wheels and then getting the rear end of the SRT8 off the ground slightly (...i also blocked with 2x4's the front wheels so the vehicle wouldn't roll on me).
2. Removing the 2 bolts that hold the caliper onto the axle (18mm or 19mm head..can't remember)
3. With the bolts out that hold and align the caliper onto the brake rotor, i had to use a soft mallet hammer to persuade the caliper off of the rotor on the driver side...the passenger one came off a little easier.
4. I had a wood stand (7 inches) ready to rest the caliper onto as it was still connected to the parking brake line and the normal brake line (which you DON"T need to disconnect).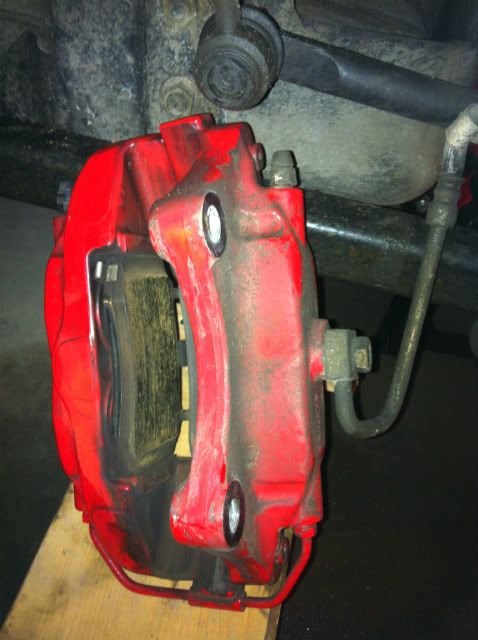 5. At this point twist/turn the caliper so you can see the back side of the caliper and you will see 4 hex bolts that hold the 2 pieces of the rotor together. Undo those as you would any other screw/bolt...they may take a bit of effort. I found a hex set that had an adapter to my socket set (to give me more leverage and torque to remove the hex bolts).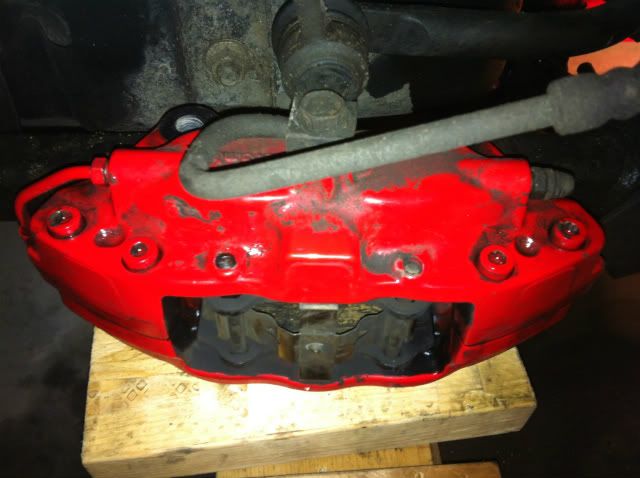 6. Once the hex bolts are out, set them aside and you will see that one end of the caliper has a metal fitting between the left and right side (leave that alone), and the other side will open up just enough for you to slide the brake pads off the pins as well as the metal cross shaped alignment bit between the 2 brake pads.
The pins stay in place, don't remove them. When you take the brake pads out, look closely at how that metal cross shaped alignment piece fits in there on top of the brake pads and under the caliper pins.