Major Contributing Member
Join Date: Apr 2006
Location: Tampa
Posts: 1,494
Thanks: 0
Thanked 11 Times in 10 Posts
BT/Elite
---
Not picking a winner here, or putting down Stage6, Moroso, or anyone else. Let me speak to BT for a minute here. First of all, we all know the quality of BT's stuff, and their efforts to supply beautiful, functional, "trick" items, and attendant accessories. Function, appearance, and ease of install are all important.
In post # 29, BT nails it. We early guys went with the Elite cause there wasn't much else out there. Mine functions, basically does the job and collects oil. But yeah, do have to dump it, wipe it out, and get rid of the oil as opposed to one with a breather. But it was a pain to mount. My can was designed for a Corvette mount I believe.
Those who bought the Elite, pre-BT etc., had to get the right bolt, space the bracket out for clearance etc. A pain to install. Some of you may remember "Sarge" coming up with a couple of bracket designs to make it easier. If BT was available then I would have gone with them. As usual, when they stepped in, options, mounts, lines etc all improved.
Today, thanks to BT, Stage6 etc, we have options. Like everything else about the WK1, in the early days we had to wait for guys like them to invest time in design, production etc., before bringing stuff to market for us. Thanks to them all.
Here's a few pics of one I use. This was after months and months of fartin around from design to manufacturer. And, I still had to drill hole for mounting. Plus in addition to the can, bracket was another bunch of bucks.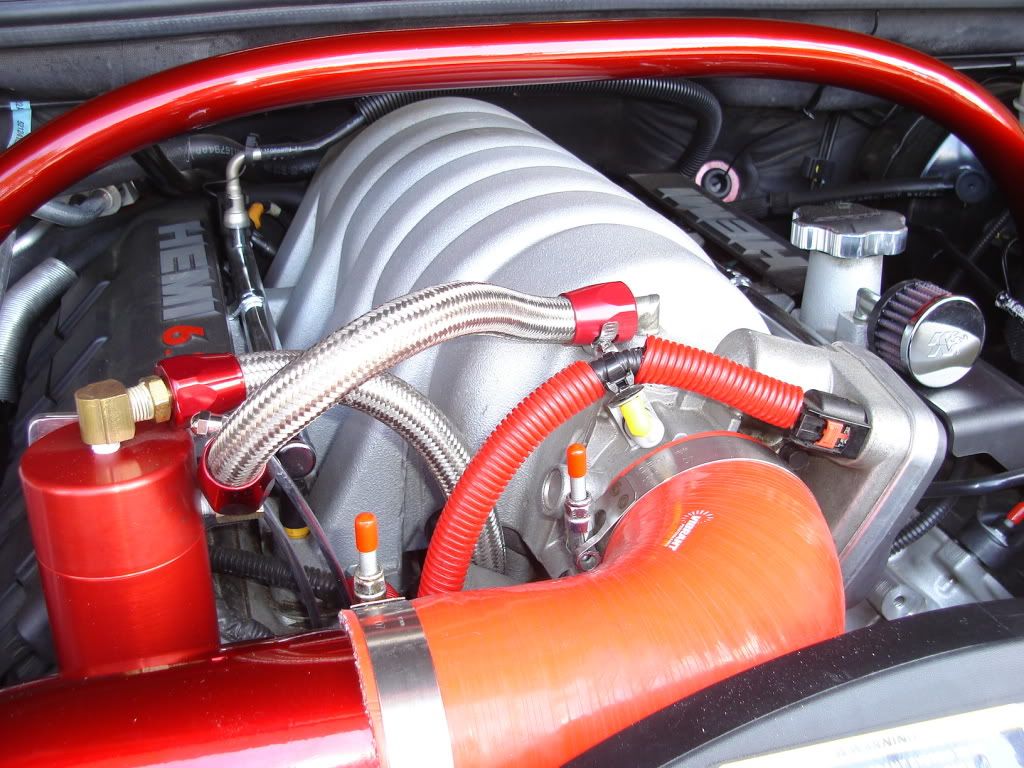 Props to all our vendors here from catch cans, to CAI's, exhausts, turbos etc. Let's support them. I'm sure the WK2 guys are experiencing the same kind of growth patterns in many areas.
---
| | |
| --- | --- |
| The Following User Says Thank You to teda For This Useful Post: | |
Elite Contributing Member
Join Date: Nov 2008
Location: Western, MI
Posts: 6,048
Thanks: 10
Thanked 210 Times in 153 Posts
Well put Ted. I had the elite can on my 06, the bt on my 08 and I had stage6 do theirs when I got the converter installed. All worked as advertised but for my needs now the stage6 works best. The bt looked great, installed easy, and helped keep a good portion of the oil out of the intake. I simply went with stage6 can because I'm trying to eek every last ounce of performance out of my rig and the less oil in the intake means less chance for knock allowing for every last hp I need for my goal.
---
2006 Steel Metallic 300 SRT8
2008 Cognac Crystal Pearl Chrysler Aspen---not fast----family hauler
2008 Steel Blue SRT8 Jeep---11.86@114----sold
2006 Inferno Red SRT8 Jeep--12.7@104---my first love taken from me
Senior Member
Join Date: Dec 2009
Posts: 176
Thanks: 1
Thanked 3 Times in 3 Posts
Is there a picture of the stage 6 one?
Senior Contributing Member
Join Date: Jun 2009
Location: Phoenix
Posts: 802
Thanks: 8
Thanked 29 Times in 24 Posts
Look back to Hawkman's post - that's the Stage 6 catch can.
------
Whether or not the Mopar one makes it out, you could still order from BT and have them do a Mopar "M" on the top. They'll do whatever you want, just has ta ax!
---
- Taylor

2006 Jeep Grand Cherokee SRT8
Inertia 426 - Ported & Polished Heads - 230/234 Cam - Stainless Works Headers - FTI 3800
Paramount Performance NAG1 - Custom 3" Exhaust w/ Cutouts - BWoody CAI
Composed by Johan
Junior Member
Join Date: Jun 2011
Posts: 2
Thanks: 0
Thanked 0 Times in 0 Posts
Elite Contributing Member
Join Date: Jun 2009
Posts: 3,770
Thanks: 328
Thanked 432 Times in 348 Posts
So we can modify the BT catch can by adding a breather filter. What happens to the opening on the manifold? Do we just plug it closed or put a breather filter on it as well?

Thanks
---
www.dingsracing.com
I'm gettting frustrated
with modding
Senior Member
Join Date: Oct 2012
Location: Valdez, AK
Posts: 112
Thanks: 17
Thanked 7 Times in 7 Posts
Where's the best price for catch cans?
---
2008 Jeep SRT8. Trinity, BT Catch Can, K&N CAI, Kooks headers, Corsa exhaust, fuel injectors, Johan tune someday...
Elite Contributing Member
Join Date: Feb 2007
Posts: 4,955
Thanks: 307
Thanked 630 Times in 473 Posts
Quote:
Where's the best price for catch cans?
Best place is Billet Technologies
Best price in one on sale, a used one from a member, or pay for a new one.
---
I'm BAAAAAAAACK....
2015 Billet Silver
past:
2012 300SRT
2009 Jeep SRT
2006 Charger SRT
Too many mods to list for each, so let's just say a lot was done over the years.
Yes, I'm on the 3 year plan...so 2018 better be a hellcat Jeep.
Senior Member
Join Date: May 2012
Location: Robles Junction/Three Points AZ
Posts: 499
Thanks: 75
Thanked 101 Times in 44 Posts
Re: Who makes the best Catchcan?
---
X2 on BT esp' during their thanksgiving sale

Sent from my ASUS Transformer Pad TF700T using AutoGuide.Com Free App
---
Last edited by TheSatinPumpkin; 02-25-2013 at

12:46 PM

.
Senior Member
Join Date: Oct 2012
Location: Valdez, AK
Posts: 112
Thanks: 17
Thanked 7 Times in 7 Posts
Went with a BT catch can from Modern Muscle. Only $95 for the can and $25 for the Z bracket.