Major Contributing Member
Join Date: Jan 2012
Location: Ft. Gaines,GA/Eufaula,AL
Posts: 1,216
Thanks: 190
Thanked 302 Times in 220 Posts
How To: WK1 Adding Line Level Converter and Highs/Mids to front doors
---
This applies to all years of the WK1 production run
I have walked about a dozen board members here through this procedure and they have all been amazed at the difference in sound quality that is made...plus, this is something that you can do yourself in less than 2hrs time for less than $100(new front door 6x9s included) that would easily cost you at least $200+parts at a stereo shop
Skill Level...2 out of 5
Time...less than 2hrs total time
Benefits... 1. this fix will give you an RCA output for an aftermarket subwoofer/amp setup that DOES NOT modulate with speed
2. this will remove the bass only output to the front door subs, replacing it with high/mid range and allow you to replace the front door 6x9s with 2 or 3way speakers that will FILL the cabin like it should have been from the factory(even the Kicker setup with the factory sub still ONLY feeds the front door speakers a bass fq, so it benefits just as much)
Cons... the only con to this mod is that all of your component speakers will ONLY be getting high/mid range sound, meaning you will HAVE to have a subwoofer installed to get ANY bass...if you don't add a sub you will HATE how this sounds, hollow
I will break this down into 2 parts, adding a line level converter for addition of an aftermarket subwoofer/amp setup and then the reconfiguring of the wiring so that you get high/mid range from the front doors( it IS best though if you do it all at one time as you'll already be right there at the amp)
ADDING THE LINE LEVEL CONVERTER
open the rear lift gate and remove the top and bottom trim panels
remove the trim panel in the very rear of the drivers side cargo area
remove the 2 screws in the drivers side cargo area trim panel
pop loose the drivers side cargo trim panel and place about a 14" long brace/wedge in
so that you don't have to hold the panel open with your elbow
you will now see the factory amp in the very rear of the drivers side cargo area
on top of the amp there are 2 plugs, the left plug(rearmost) and the right plug(front most)
for the line level converter we will be looking at the left plug(rearmost)
see picture below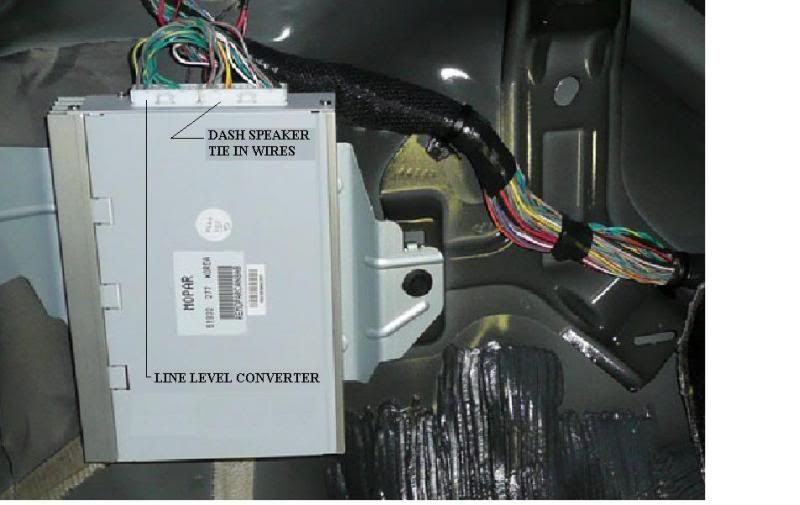 (you do NOT need to unplug the plug from the amp to do this job)
when looking at the left plug look at the 4 furthest left( rearmost) wires that are in the plug
these wires will be gray/yellow, gray/purple, green/yellow and green/purple
follow these 4 wires about 4" away from the plug and cut them each in half***
***(if you are not wanting to fix the front doors at this time
DON'T
cut these wires, use t-tap connectors to splice the line level converter into these wires)***
once these wires are cut fold the wires that are running to the front of the jeep back out of the way, you are going to be working with the wires that
RUN INTO THE PLUG ON THE AMP
at this point you will have four 4" wires coming from the plug, you will connect(butt connectors or solder) these wires with the 4 wires on your new line level converter
the diagram below shows exactly what the process involves
now that this is completed you have a non-fading RCA output for your aftermarket sub/amp
on to fixing the doors
***this fix will allow you to replace the front door subwoofers with 2 or 3way speakers that will fill the cabin of the jeep with high/mid range sound***
when looking at the factory amp you will be working with the right(front most) plug
the wires that you cut in half on the last procedure were only used on one end(plug end), the other ends we left folded back out of the way...this is where we will tie those loose wires back into the front dash leads to pick up our high/mid range sound
using t-tap connectors, splice the 4 loose wires into the right plug wiring following the diagram shown below
all that is left to do is replace the front door 6x9 subwoofers with some good 2 or 3 ways and you will be smiling ear to ear...
***FYI...when switching out the front door speakers you will most likely need to space the new speaker out from the door about 3/8" in order to clear the window as they will most likely be a little deeper than factory....what i do in the shop is take one of the regular nylon bungee cords and cut the hook off both ends...take and loosely install the 2 bottom screws in the new speaker....route the bungee on the inside of the screws and center the bungee....pull the bungee around the speaker on one side and loosely install that corners screw...repeat for the other top corner...now pull the bungee to the middle of the speaker on top and cut it so that it meets up...tighten down screws and you're done!!!***
---

To view links or images in signatures your post count must be 10 or greater. You currently have 0 posts.

***Charred***
2008 SRT8*Silver*CAI*Flowmaster*180 tstat*Catch Can*Comp Cams 273*8000k HIDs HI/LOW/FOG*all LED interior*Custom audio*ToonaTooned!!! Paramount Trans!!!
---
Last edited by cmn1; 07-16-2013 at

05:59 AM

.
Senior Member
Join Date: May 2013
Location: Oklahoma City
Posts: 131
Thanks: 5
Thanked 15 Times in 9 Posts
On JP's advice, I did this mod today on my Jeep. It sounds so much better now!!! I was budgeting for a new amp, speakers, and a lot of rewiring. This saved me at least $200-$300.

Since I'm just running a small sub & amp, I used the power & ground from the factory subwoofer wiring. Worked like a charm and I didn't have to run wire all the way to the battery. I wouldn't recommend this if you're wanting a big ground pounding system though.
---
2009 Procharged SRT8
Formerly Procharger's R&D vehicle
'09 Mirrors with Power Folding Internals
Quad Projector Retrofit w/ Halo Projector Fogs
Tinted Tails w/TLS Harness
Audio Control LC6i Feeding SoundStream Amps
Kicker CS doors & dash on 340watts & Alpine Type-R on 650watts
Mobius Actioncam Dash camera
5% Tint
Posting Rules

You may not post new threads

You may not post replies

You may not post attachments

You may not edit your posts

---

HTML code is Off

---